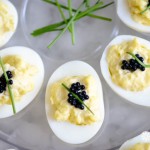 I have never ever seen an episode of Mad Men. It's true. It's on my list, but lately I just don't have time to watch T.V., case in point I have chopped recorded and haven't watched an episode since January…it's filling up my DVR.
So why am I posting a recipe for a Mad Men group post?  Because my favorite blogger, Debra fromEliot's Eats invited me too and that's reason enough.  I may be eons behind in what's hip and in vogue on T.V. and movies but that doesn't make me completely ignorant.  I keep up enough to hold up a cocktail party conversation "wow, can you believe that it's the last season of Mad Men, only seven episodes left" (I just read that in the paper last Sunday).
Although the baby boy swears that I'm a 'hipster' despite my protests that I am far too old to be classified as one, he also seems to ignore the signs that I am not really 'hip' at all.  Actually at my age, although I didn't experience the Mad Men era, I am a by-product of it.  I am sure that I was conceived after some post cocktail and hors d' oeuvre evening… It could explain my love for both now.