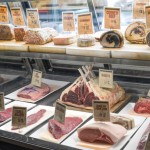 Last weekend I had the pleasure of attending my second IACP conference, once again it was a fun time and a great way to network! I learned scads and enjoyed eating and drinking the whole weekend.  Don't know what I like more…the food or the people?
Here's my mostly photographic weekend.  Photos taken at Red Apron (mostly) were taken with my D800, after a while I ditched it for the freedom of my iPhone (which amazes me constantly…)
My first day started off with a charcuterie tour and wine pairing at the famous Red Apron, then a meal at Chef Nathan Anda's restaurant The Partisan.